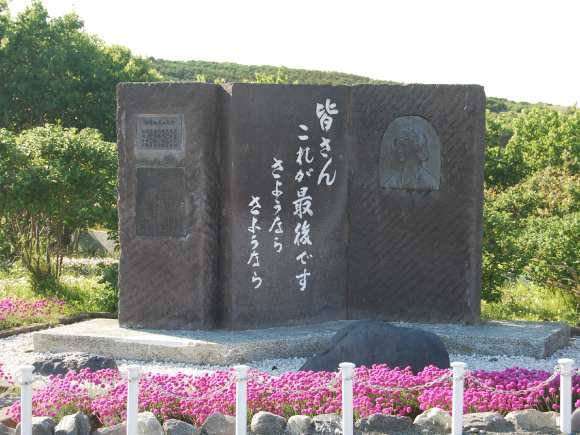 The 9 Maidens Monument
The 9 Maidens Monument is a memorial to nine women who died on Karafuto (now known as Sakhalin) after the Pacific War.
On August 20, 1945, at the end of the Pacific War, Soviet troops landed in Maoka (now known as Kholmsk) on Karafuto. While fighting broke out between these troops and the remaining Japanese soldiers on the island, the switchboard operators at the post office in Maoka remained at their stations even as the battle raged around them. When their work was complete, they took their own lives with potassium cyanide. This monument was created as a memorial to these nine brave women.
The monument is in the shape of a folding screen and stands at 1.8 m high and 2.4 m wide. A relief of a woman representing the switchboard operators, the names of all nine women, and their final words, "Everyone, this is the end. Farewell, farewell." are carved into the stone.
It stands next to Hyosetsu Gate, and the two monuments were unveiled together. Ceremonies in honor of peace are also held at both sites at the same time every year.
Materials relating to the memorial are on display at the Wakkanai Founding Centennial Tower in Wakkanai Park.

- Description -
Soviet troops attempted to land in Maoka on Karafuto on August 20th, 1945, five days after the end of the war. Fighting quickly broke out between these soldiers and the Japanese troops. As the town turned into a battlefield, nine female switchboard operators remained at their post, protecting their station with their lives.
Despite the gunfire and explosions that could be seen through the window, they faced up to the certain danger and stayed at their switchboards to the last. With the final words, "Everyone, this is the end. Farewell, farewell", these young women full of hopes and dreams for the future quietly took their own lives with potassium cyanide.
The 9 Maidens Monument is dedicated to their memory and stands as a symbol against the reemergence of war and as a prayer for peace.